Get 10% off your first order

Sign up here
The perfect kids car window shade
Are you looking for something fun and unique to protect your littles one from the sun?
My Shady Baby car window shades are the perfect solution to keep your little ones happy on the move.
Our designs block 65% of harmful UV rays, super easy to install, they're transparent when the car is moving (no blind spots) and they're invisible from the outside.
Our most popular window shades Sun Protection
We take sun safety seriously! Our shades are designed to keep the glare and harmful UV rays off your little ones. Our window shades block out 65% of UVA & UVB from the sun as tested by ARPANSA. Invisible from the Outside
Our car window tints are not seen from outside the vehicle. The clever designs are applied to the inside of the window and appear black from the outside. Fun sun protection for your little one without affecting the look of your car! No Blind Spots
The window tint will become transparent when the car is moving. Safely allowing you full visibility while driving and it doesn't block the view from your back passengers either. The Perfect Fit
Our designs are made to fit perfectly on most vehicles with no gaps. The long-lasting and durable material makes applying them super easy and keeps little fingers from scratching or pulling them off.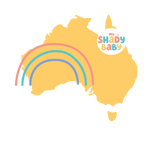 ABOUT US
My Shady Baby is a family run business. We are 100% Australian owned.
We take great pride in creating fun and functional window shades to provide sun protection in the car for babies and children. Thank you for supporting our small business. We hope you enjoy your My Shady Baby window shades as much as we do!
MORE ABOUT US
What other parents are saying
"AMAZING! Such cute designs and completely functional on the car."

- Kendall M

"I recommend your products to everyone I know. They are genius!"

- Mel L

"They are fantastic! Love that they can't be seen from the outside but still protect my baby from the sun!"

- Sarah W

"They do everything better than normal window shades!"

- Liz C

"Seriously easy to install and looks awesome!"

- Peter M
Watch our quick tutorial on how to install your baby car window shade and see how easy it is for yourself.
READY TO SHOP WITH 10% OFF?
Want 10% off your first order? Join the My Shady Baby community now.
YES PLEASE